The big day is fast approaching, your wedding has to be perfect, every last detail needs to be attended to. You need to book the location, whether that is the traditional church or perhaps as in recent years somewhere a little different including getting married at the local football (soccer) stadium. Then there is the photographer, florist, wedding invitations, cake, decorations, the music & DJ, Bride's hair & make up and Bridesmaid's hair & make up This list is not exhaustive in the least. Also there is the wedding transport, getting the Bride and Bridesmaids to the church plus getting the Bridegroom and Best man to the church. Then after the church, taking the Bride and Bridegroom to the reception. The Best man and Bridesmaids didn't come in their own transport, how they getting to the reception?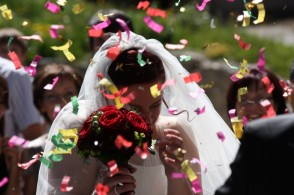 The type of transport also has to be decided upon, is it a Rolls Royce or a stretched limousine? These have often been popular choices but in recent times, people have opted for something a little different. What better than a Routemaster bus to take the bride to the church? After the wedding the bride and groom can greet the guests with a glass of champagne as they get on the bus. The Bride and Bridegroom can then travel to the wedding destination along with 50 or so guests. This is especially helpful if the wedding party venue is some distance from the wedding venue. You don't have to worry about Aunt Mabel getting lost on the way. In fact the wedding reception has started already.
When it comes to wedding bus hire, Routemasters make a great choice. Your guests are going to talk about the wedding for a long time and remember the day forever. Plus you are going to have those beautiful romantic photographs which will be forever a talking point.
Of course hiring Routemasters need not just be confined to weddings, the possibilities are endless. stag nights, hen nights, baby showers to name but a few. Small companies could hire the big red bus for corporate events or team building strategies. The Routemaster is ye catching and if you used the bus for a marketing event, you would be sure to make an impact.